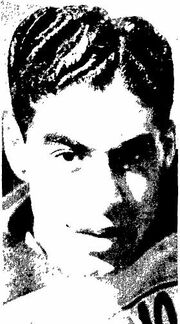 Tony Licari (born April 9, 1921 in Ottawa, Ontario) was a Canadian right winger who played 9 games for the the Detroit Red Wings in 1946-47. He played junior hockey for the Perth Blue Wings of the Ottawa City Junior Hockey League in 1939-40 and for the Guelph Biltmores in 1940-41.
Licari played minor pro hockey in North America until 1951, when he went to Great Britain to join the Harringay Racers.
Ad blocker interference detected!
Wikia is a free-to-use site that makes money from advertising. We have a modified experience for viewers using ad blockers

Wikia is not accessible if you've made further modifications. Remove the custom ad blocker rule(s) and the page will load as expected.