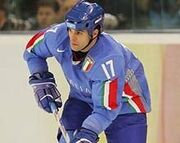 Tony Iob (born January 2, 1971, in Renfrew, Ontario) is a retired Canadian-Italian left winger who played pro hockey from 1992 to 2009.
He played junior hockey for the Kingston Frontenacs and the Sault Ste. Marie Greyhounds from 1988 to 1992. Picked 189th overall by the Buffalo Sabres in the 1989 NHL Entry Draft, Iob played minor pro hockey in North America in 1992-93.
In 1993 Iob moved to Italy and played there and took out Italian citizenship. He played in Europe, except for two short stints, until his retirement in 2009.
He played for Italy in the 2006 Olympics and the World Championships in 1997, 1998, 2001, and 2006.
Ad blocker interference detected!
Wikia is a free-to-use site that makes money from advertising. We have a modified experience for viewers using ad blockers

Wikia is not accessible if you've made further modifications. Remove the custom ad blocker rule(s) and the page will load as expected.