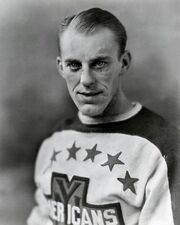 Tony Hemmerling (May 15, 1914 – May 23, 1983) was a professional ice hockey player who played 24 games in the National Hockey League. Born in Landis, Saskatchewan, he played with the New York Americans.
He played amateur hockey in his native Saskatchewan from 1929 to 1933, including with the North Battleford Beavers and the Saskatoon Quakers. He lost the 1932-33 Allan Cup Final with the Quakers.
He turned pro with the Seattle Sea Hawks in 1933-34 and found his was to a three game callup with the New York Americans in 1935-36. The Americans played him for 19 games in 1936-37. His NHL totals included 3 goals and 3 assists in the 22 games.
After that he played through the 1945-46 season in the American Hockey League. Hemmerling played one season (1946–47) with the Pacific Coast Hockey League's (PCHL) Fresno Falcons and then retired.
Hemmerling coached five seasons in the PCHL with the Oakland Oaks, San Francisco Shamrocks, Portland Eagles, and the Seattle Ironmen.
References
Edit
Ad blocker interference detected!
Wikia is a free-to-use site that makes money from advertising. We have a modified experience for viewers using ad blockers

Wikia is not accessible if you've made further modifications. Remove the custom ad blocker rule(s) and the page will load as expected.