Ad blocker interference detected!
Wikia is a free-to-use site that makes money from advertising. We have a modified experience for viewers using ad blockers

Wikia is not accessible if you've made further modifications. Remove the custom ad blocker rule(s) and the page will load as expected.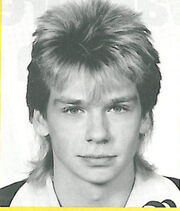 Tommy Hedlund (born February 9, 1967) is a retired Swedish hockey defenceman. He was drafted by the New York Islanders in the 5th round, 89th overall in the 1985 NHL Entry Draft.
--- Regular Season ---  ---- Playoffs ----
Season   Team                        Lge    GP    G    A  Pts  PIM  GP   G   A Pts PIM
--------------------------------------------------------------------------------------
1985-86  AIK                    SEL    15    2    4    6    6
1988-89  AIK                    SEL    30    3    4    7   28
1989-90  AIK                    SEL    17    1    3    4   20   2   0   0   0  12
1995-96  AIK                    SEL    38    0    2    2   20  --  --  --  --  --
--------------------------------------------------------------------------------------