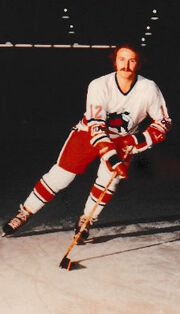 Tom Simpson (born August 12, 1952 in Bowmanville, Ontario) is a retired professional ice hockey right winger who played 314 games in the World Hockey Association (WHA). He played with the Ottawa Nationals, Toronto Toros, Birmingham Bulls, and Edmonton Oilers from 1972-73 to 1976-77. Simpson scored 125 goals and 84 assists in the WHA.
He was chosen 89th overall by the St. Louis Blues in the 1972 NHL Amateur Draft.
Ad blocker interference detected!
Wikia is a free-to-use site that makes money from advertising. We have a modified experience for viewers using ad blockers

Wikia is not accessible if you've made further modifications. Remove the custom ad blocker rule(s) and the page will load as expected.