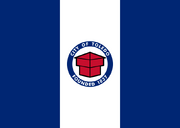 Toledo, Ohio is the sixtieth largest city in the United States and the fourth largest city in the state of Ohio. Toledo is located in the Huron-Erie Lake Plains of Northwest Ohio. Toledo is home to two Fortune 500 companies (Dana Corporation and Owens Corning) and is also headquarters to Jeep off-road vehicles. Toledo is one of the busiest port cities on Lake Erie, the United States third busiest rail hubs and 15th busiest air cargo hub. Through its long history of innovation in all aspects of the glass industry, Toledo is affectionately known as the Glass City.
Hockey in Toledo
Edit
Complete team list
Edit
(Michigan-Ontario League, 1940-42) play independent when league folds
(Independent team, 1942-1943)
(Central States Hockey League, 1998-2010) league renamed NA3HL
(NA3HL, 2010-Present)
Arenas in Toledo
Edit
Other players
Edit
External Links
Edit
Ad blocker interference detected!
Wikia is a free-to-use site that makes money from advertising. We have a modified experience for viewers using ad blockers

Wikia is not accessible if you've made further modifications. Remove the custom ad blocker rule(s) and the page will load as expected.