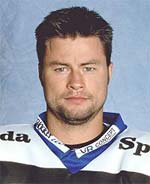 Tobias Abstreiter (b. July 6th 1970 in Landshut, Bayern, West Germany) is a retired professional center who spent his whole career at the German Elite level.
Known as a reliable two-way player and faceoff specialist, Abstreiter began his career with the Landshut EV of the 1.Bundesliga in 1987-88. He joined the Kölner Haie in 1994-95; he would be DEL champion on two consecutive years with Die Haie. In 1997, he spent one season in the 1.Liga Süd with TSV Erding before returning to the elite level with a transfer to the Kassel Huskies; Kassel made him their captain.
His younger brother Peter also plays in the Deutsch Eishockey Liga, with EHC Straubing.
External links
Edit
Ad blocker interference detected!
Wikia is a free-to-use site that makes money from advertising. We have a modified experience for viewers using ad blockers

Wikia is not accessible if you've made further modifications. Remove the custom ad blocker rule(s) and the page will load as expected.