Ad blocker interference detected!
Wikia is a free-to-use site that makes money from advertising. We have a modified experience for viewers using ad blockers

Wikia is not accessible if you've made further modifications. Remove the custom ad blocker rule(s) and the page will load as expected.
Timmins Rock

City:
Timmins, Ontario, Canada
League:
Northern Ontario Junior Hockey League
Division:
Eastern
Founded:
1991
Home Arena:
McIntyre Arena
General Manager:
Paul Gagne
Head Coach:
Paul Gagne
Franchise history
1991-1999:
Timmins Golden Bears
1999-2002:
Iroquois Falls Jr. Eskis
2002-2015:
Abitibi Eskimos
2015-Present:
Timmins Rock
The Timmins Rock are a Junior "A" ice hockey team from Timmins, Ontario, Canada. They are a part of the Northern Ontario Junior Hockey League.
The Timmins Golden Bears became members of the NOJHA in 1991. The Golden Bears won their league championship in 1995. In 1999, the Timmins Golden Bears relocated to Iroquois Falls, Ontario and became the Iroquois Falls Jr. Eskies. After 3 seasons, the Jr. Eskies re-branded as the Abitibi Eskimos. Attendance improved and the Eskimos played good-quality hockey. The Eskimos hosted the 2007 Dudley Hewitt Cup, but lost the semi-finals to the Schreiber Diesels. Three years later in 2009-10, the Eskimos clinched first overall and won the NOJHL championship over the Soo Thunderbirds, who were hosting the Dudley-Hewitt Cup. The Eskimos were gunning to make the Royal Bank Cup, but finished 4th. The Eskimos never made the.NOJHL finals again.

In March 2015, the Abitibi Eskimos announced they were relocating back to Timmins after 16 years in Iroquois Falls. When the Eskimos announced they were moving, the Mattawa Blackhawks left the small town without junior hockey for next season as they filled the void and became the Iroquois Falls Eskimos.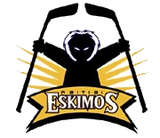 Season-by-season results
Edit
Season
GP
W
L
T
OTL
GF
GA
P
Results
Playoffs
Timmins Golden Bears
1991-92
48
33
13
2
-
361
173
68
2nd NOJHL
1992-93
48
42
4
2
-
407
176
86
1st NOJHL
Lost Final
1993-94
40
19
19
2
-
190
192
40
4th NOJHL
1994-95
48
39
9
0
-
303
165
78
1st NOJHL
Won League
1995-96
44
29
14
1
-
206
173
59
3rd NOJHL
1996-97
40
13
25
2
-
131
222
28
4th NOJHL
1997-98
40
13
20
7
-
136
210
33
4th NOJHL
1998-99
40
12
24
4
-
128
189
28
5th NOJHL
Iroquois Falls Jr. Eskis
1999-00
40
20
19
1
-
171
180
41
4th NOJHL
2000-01
40
15
24
0
1
171
224
31
5th NOJHL
2001-02
42
14
24
0
4
165
246
32
5th NOJHL
Abitibi Eskimos
2002-03
48
23
22
3
-
210
207
49
5th NOJHL
2003-04
48
26
18
3
1
191
156
56
4th NOJHL
2004-05
48
30
13
4
1
201
148
65
2nd NOJHL
Lost Semi-final
2005-06
48
20
24
3
1
174
190
44
5th NOJHL
Lost Quarter-final
2006-07
48
26
16
0
6
177
174
58
3rd NOJHL
Lost Quarter-final
2007-08
50
31
14
-
5
224
157
94
2nd NOJHL
Lost Final
2008-09
50
29
17
-
4
198
166
62
3rd NOJHL
Lost Semi-Final
2009-10
50
40
7
-
3
263
141
83
1st NOJHL
Won League
2010-11
50
26
23
-
1
216
217
53
5th NOJHL
Lost Semi-final
2011-12
50
28
18
-
4
241
222
60
4th NOJHL
Lost Quarter-final
2012-13
48
14
31
0
3
165
258
31
7th NOJHL
Lost Quarter-final
2013-14
56
30
22
0
4
212
212
64
4th NOJHL
Lost Semi-final
2014-15
52
28
20
0
4
243
233
60
4rd of 5 East
6 of 9 NOJHL
Lost Div. Semi-final, 2-4 (Crunch)
Timmins Rock
2015-16
54
29
24
1
0
257
219
59
4th of 6 East
6 of 12 NOJHL
Lost Div. Semi-final
External links
Edit