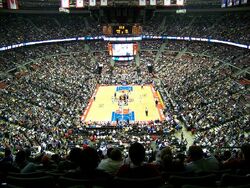 The Palace of Auburn Hills is an indoor arena in Auburn Hills, Michigan (a suburb of Detroit). It was the home of the Detroit Pistons of the National Basketball Association and was the home of the Detroit Vipers of the International Hockey League from 1994 to 2001. As well, it has served as the venue for various NCAA hockey games.
It was opened in 1988 and has a hockey capacity of over 20,800.
It was announced on August 24, 2017 that the arena would be closing indefinitely on September 23,2017.  Some of the facility will continue to be used as the Pistons will use the office and practice facilities until a new headquarters for the team is completed in Detroit. The facility may end up being redeveloped for either technology or research use.
Ad blocker interference detected!
Wikia is a free-to-use site that makes money from advertising. We have a modified experience for viewers using ad blockers

Wikia is not accessible if you've made further modifications. Remove the custom ad blocker rule(s) and the page will load as expected.