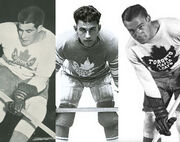 The Kid Line was a NHL line for the Toronto Maple Leafs in the 1930s. It included Charlie Conacher, Harvey "Busher" Jackson and Joe Primeau. When they first came together as a line, Primeau was the oldest at 23 years old, while Jackson and Conacher were both 18. All three players are members of the Hockey Hall of Fame.
Maple Leafs coach Conn Smythe, put the line together, and it helped the Maple Leafs to a Stanley Cup championship in 1932, and lead the Leafs to four Stanley Cup finals appearances over the next six years.
Ad blocker interference detected!
Wikia is a free-to-use site that makes money from advertising. We have a modified experience for viewers using ad blockers

Wikia is not accessible if you've made further modifications. Remove the custom ad blocker rule(s) and the page will load as expected.