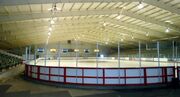 The Ice Mine is an indoor arena located near Connellsville, Pennsylvania. The facility has a capacity of 3,500 for hockey.
The facility was briefly home to two differerent Federal Hockey League teams. The Southwest Pennsylvania Magic were added to the league as an expansion team for the 2014-15 season after the league had played a game at the arena during the 2013-14 season.  The Magic folded part way (October 21) through their first season and were replaced by the Steel City Warriors a few weeks later.  That franchise folded after the season completed.
The facility is scheduled to become the home of the Pittsburgh Kings of the National College Prospects Hockey League in the fall of 2016.