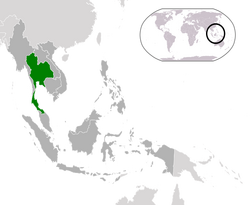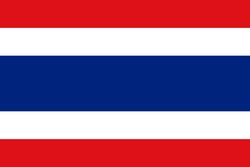 Thailand is a country of about 63,000,000 in southeastern Asia.
Its capital is Bangkok.
Thailand

Info

Rinks

Players

Referees

8


Population

66,404,688

Indoor

3

Total

220

Male

--

Capital

Bangkok

Outdoor

0

Male

85

Female

--

IIHF Since

April 27 1989

Junior

110

Female

25

Thailand's Ice Skating Association was founded in 1986, and three years later it became a member of the International Ice Hockey Federation. A national championship is played. Thailand has not participated in any IIHF tournaments. In 1998 the Thai national team was beaten 92-0 by South Korea.
National Teams
Edit
Ad blocker interference detected!
Wikia is a free-to-use site that makes money from advertising. We have a modified experience for viewers using ad blockers

Wikia is not accessible if you've made further modifications. Remove the custom ad blocker rule(s) and the page will load as expected.