Ad blocker interference detected!
Wikia is a free-to-use site that makes money from advertising. We have a modified experience for viewers using ad blockers

Wikia is not accessible if you've made further modifications. Remove the custom ad blocker rule(s) and the page will load as expected.
Texas Tornado

City:
Frisco, Texas
League:
NAHL
Division:
South
Founded:
1999
Home Arena:
Dr Pepper Arena
Colors:
Black, Yellow, and White
Owner(s):
Schlegel Sports Group
General Manager:
Tony Curtale
Head Coach:
Tony Curtale
Media:
B2 Networks
Franchise history
1999-2013:
Texas Tornado
2013-2016:
Lone Star Brahmas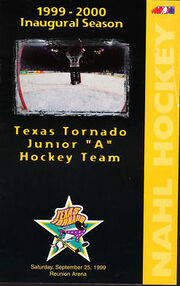 The Texas Tornado were a Junior A hockey team located in Frisco, Texas, USA. The team joined the North American Hockey League's Central division in 1999 (and moved into the newly-formed southern division three years later) while located in North Richland Hills, Texas, and have enjoyed unprecedented success since their expansion year. The Tornado hold the NAHL regular season record.
The Tornado play their home games at the 6,000-seat Dr Pepper Arena in Frisco. All of their games are shown live on the B2 Network in a pay-per-view format or season pass, and for free with an audio-only format.
On May 13, 2006, the Tornado won their third straight Robertson Cup, defeating the Bozeman Icedogs. This would be the first time in over 15 years that a team won three consecutive Robertson Cups. The Texas Tornado are owned and operated by the Schlegel Sports Group.
Recent regular season records
Edit
Season
GP
W
L
OTL
SOL
PTS
GF
GA
PIM
Finish
1999-00
56
42
12
0
2
86
239
133
1451
1st West
2000-01
56
40
12
4
0
84
265
158
1541
1st West
2001-02
56
40
13
3
0
83
208
135
1826
1st West
2002-03
56
41
13
2
0
84
214
142
1928
1st West
2003-04
56
48
6
2
0
98
276
123
1705
1st South
2004–05
56
42
13
1
0
85
226
120
1786
Southern Division Champs
2005–06
58
42
12
4
3
88
201
132
1516
Southern Division Champs
2006–07
62
38
18
6
4
82
211
174
1484
3rd in South
2007–08
58
20
33
5
2
45
165
201
1588
4th in South
2008–09
--
--
--
--
--
--
--
--
Did Not Play
2009–10
58
25
28
4
1
55
170
204
1693
3rd in South
2010-11
58
35
15
6
2
78
213
164
1321
2nd South
2011-12
60
36
16
5
3
80
215
159
1190
3rd South
2012-13
60
36
22
1
1
74
219
168
1123
3rd South
2013-14
2014–15
2015–16
Playoff records
Edit
| | | | | | | | | |
| --- | --- | --- | --- | --- | --- | --- | --- | --- |
| Season | GP | W | L | OTL | GF | GA | PIM | Finish |
| 2005 | 12 | 10 | 2 | 0 | 56 | 31 | 337 | League Champions |
| 2006 | 13 | 10 | 3 | 0 | 50 | 30 | 315 | League Champions |
| 2007 | 10 | 5 | 5 | 0 | 38 | 38 | 147 | Lost in 2nd Round |
| 2008 | 3 | 0 | 3 | 0 | 3 | 18 | 66 | Lost in 1st Round |
| 2009 | -- | -- | -- | -- | -- | -- | -- | Did Not Play |
| 2010 | 4 | 1 | 2 | 1 | 15 | 18 | - | Lost in 1st Round |
| 2011 | 5 | 2 | 3 | 0 | 10 | 10 | 65 | Lost in 1st Round |
| 2012 | 5 | 3 | 2 | 0 | 17 | 16 | 65 | League Champions |
| 2013 | 6 | 3 | 3 | 0 | 17 | 17 | - | Lost in Division Final |
2009-10 season
Edit
Coaches and staff

Title
Name
Head coach/GM
Tony Curtale
Assistant coach
Jason Bloomingburg
Goalie coach
Cam Macdonald
Team physician
Dr. William C. Burns II
Athletic trainer
Rich Schmelzer
Equipment manager
Andrew Cohen
Broadcasters
Owner
Kirby Schlegel
President
Tony Curtale
Executive VP
2009-10 roster
Edit
<center>Defensemen</center>
#
Player
Shoots
Date of birth
Hometown
3
Brendan Bandyk
R
October 14, 1989
Chicago, IL
4
Joe Adams*
R
August 16, 1991
Orange, CA
7
Tyler Rostenkowski*
L
July 2, 1993
Chicago, IL
26
Alex Jacobs*
R
April 13, 1990
Detroit, MI
28
Erick Ware*
L
April 13, 1990
Huntsville, AL
<center>Forwards</center>
#
Player
Position
Shoots
Date of birth
Hometown
11
Jack Prince*
W
L
February 14, 1991
United Kingdom
12
Axel Boyer*
C
R
September 19, 1990
Keller, TX
14
Steven Behm*
W
L
July 8, 1991
Grand Rapids, MI
15
Mike Fleming*
W
L
May 29, 1991
Peoria, IL
18
Scott Deur
C
R
January 17, 1989
Big Rapids, MI
19
Rock Einersen
C
L
August 22, 1990
Chicago, IL
20
Tyler Underhill*
W
L
August 5, 1991
East Aurora, NY
21
Justin Jones*
W
R
November 17, 1990
Dallas, TX
22
James Howard*
W
L
Junes 30, 1990
Canfield, OH
61
James Poston*
C
R
March 15, 1991
Toledo, OH
73
David Rigatti*
W
R
January 4, 1991
Pittsburgh, PA
89
Ian Braun
W
R
January 30, 1989
Buffalo, NY
* Denotes rookie
Tornado alumni in the NHL
Edit
The Tornado have been equally successful in preparing players for the next level of hockey. Especially of note are the goaltenders to come out of the system. The more notable players include -
External links
Edit