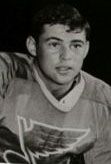 Ted Ouimet (born January 6, 1947 in Noranda, Quebec) was a professional goaltender who played one game for the St. Louis Blues of the National Hockey League.
Ouimet started his career with the Montreal Junior Canadiens and the London Nationals of the Ontario Hockey Association. The Montreal Canadiens, however, had a surplus of Goaltenders and traded him in 1968 to the St. Louis Blues.
He played one game for the Blues in his rookie (1968–69) season, but never played in the NHL again.
Ouimet played in one World Hockey Association game for the New England Whalers in 1974-75. He retired in 1975.
Ad blocker interference detected!
Wikia is a free-to-use site that makes money from advertising. We have a modified experience for viewers using ad blockers

Wikia is not accessible if you've made further modifications. Remove the custom ad blocker rule(s) and the page will load as expected.