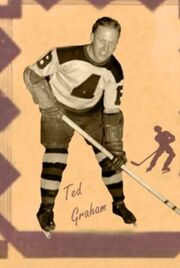 Ted Edward Dixon "Teddy" Graham (January 30, 1906 in Owen Sound, Ontario – January 11, 1979) was a professional ice hockey defenceman who played 10 seasons in the National Hockey League for the Chicago Black Hawks, Montreal Maroons, Detroit Red Wings, St. Louis Eagles, Boston Bruins and New York Americans.
He played for his hometown Owen Sound Greys when they won their first Memorial Cup as Canadian junior champions in 1924. After two years of senior hockey with the Stratford Indians and the London Ravens Graham turned pro with the Chicago Black Hawks in 1926-27. He was sent down to the minors until 1929-30 when he returned to the Hawks. Graham was a regular for the Hawks through the 1932-33 season.
Starting in 1933 he played for five NHL teams over four seasons. He retired in 1938 after playing for the New Haven Eagles.
In the NHL Graham played in 346 games and scored 14 goals and 25 assists.
External links
Edit
Ad blocker interference detected!
Wikia is a free-to-use site that makes money from advertising. We have a modified experience for viewers using ad blockers

Wikia is not accessible if you've made further modifications. Remove the custom ad blocker rule(s) and the page will load as expected.