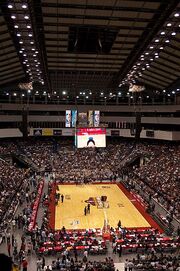 Taipei Arena is an indoor arena located in Taipei, Taiwan. Built in 2005, the large multi-purpose stadium can accommodate major international sport events such as ice skating, ice hockey, gymnastics, handball, basketball, tennis, badminton, table tennis, indoor soccer, boxing, judo, karate, taekwondo and wrestling. It is currently operated by the Eastern Media Group, which won the bid to operate the arena for nine years. However, the Eastern Media Group is involved in the bid scandals. Taipei City Government has cancelled the right of operation.
It was designed by Archasia, an architectural firm established in Taipei. It is located at the site of the former Taipei Municipal Baseball Stadium (built in 1958, opened 1959, demolished 2000). The arena was opened on December 1, 2005. The main arena has an adjustable floor space: its minimum floor space is 60m × 30m, and can be extended to 80m × 40m.
The Chinese Taipei Ice Hockey League (CTIHL) plays out of the auxiliary arena, which is a 60m × 30m ice skating rink. The basement now houses two large gas turbine power generators to be used for the surrounding district during emergencies.
References
Edit
External links
Edit
Ad blocker interference detected!
Wikia is a free-to-use site that makes money from advertising. We have a modified experience for viewers using ad blockers

Wikia is not accessible if you've made further modifications. Remove the custom ad blocker rule(s) and the page will load as expected.