Ad blocker interference detected!
Wikia is a free-to-use site that makes money from advertising. We have a modified experience for viewers using ad blockers

Wikia is not accessible if you've made further modifications. Remove the custom ad blocker rule(s) and the page will load as expected.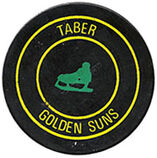 The Taber Golden Suns were a Junior A ice hockey team in the Alberta Junior Hockey League based in Taber, Alberta, Canada.
The Golden Suns were founded in 1974 as an expansion club, lasting seven seasons before being sold and relocated to Olds, Alberta as the Olds Grizzlys. During their tenure, they reached the AJHL finals three times, losing each time.
The Golden Suns produced four NHLers during their time: Lindy Ruff, Rocky Saganiuk, Gord Williams and Earl Ingarfield, Jr..
Season-by-season record
Edit
Note: GP = Games played, W = Wins, L = Losses, T = Ties Pts = Points, GF = Goals for, GA = Goals against
| | | | | | | | | | |
| --- | --- | --- | --- | --- | --- | --- | --- | --- | --- |
| Season | GP | W | L | T | GF | GA | Points | Finish | Playoffs |
| 1974-75 | 60 | 28 | 31 | 1 | 338 | 308 | 57 | 4th overall | |
| 1975-76 | 60 | 29 | 31 | 0 | 322 | 280 | 58 | 4th overall | Lost final |
| 1976-77 | 60 | 36 | 23 | 1 | 353 | 296 | 73 | 3rd overall | Lost final |
| 1977-78 | 60 | 16 | 42 | 2 | 291 | 368 | 34 | 7th overall | Out of playoffs |
| 1978-79 | 60 | 34 | 26 | 0 | 302 | 284 | 68 | 4th overall | |
| 1979-80 | 59 | 26 | 33 | 0 | 260 | 295 | 52 | 5th overall | |
| 1980-81 | 60 | 26 | 33 | 1 | 285 | 393 | 53 | 3rd South | Lost final |
References
Edit
AJHL Annual Guide & Record Book 2006-07