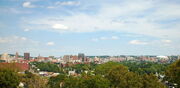 Syracuse is a city in north-central New York, United States.
The city has a population of over 147,000 and the metropolitan area over 730,000.
(Eastern Hockey League, 1967-1973) join North American Hockey League
North American Hockey League  (1973-1977) fold with league
(Metro Junior A Hockey League, 1996-1998) join Ontario Provincial Jr. A Hockey League and add another team in MJAHL, Auburn Jr. Crunch
(Ontario Provincial Jr. A Hockey League, 1998-2005) join Eastern Junior Hockey League as Syracuse Stars
International Hockey League (1930-1936) join International-American Hockey League
International-American Hockey League (1936-1940) become Buffalo Bisons (AHL)
American Hockey League (1951-1954) become Springfield Indians again
University Teams
Edit
Meachem Ice Riink
Burnet Park Arena
Sunnycrest Arena
Clinton Square Ice Rink
Coca-Cola Coliseum (New York State Fairgrounds)
External Links
Edit
Ad blocker interference detected!
Wikia is a free-to-use site that makes money from advertising. We have a modified experience for viewers using ad blockers

Wikia is not accessible if you've made further modifications. Remove the custom ad blocker rule(s) and the page will load as expected.