Ad blocker interference detected!
Wikia is a free-to-use site that makes money from advertising. We have a modified experience for viewers using ad blockers

Wikia is not accessible if you've made further modifications. Remove the custom ad blocker rule(s) and the page will load as expected.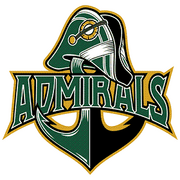 The Sylvan Lake Admirals were a men's senior "AAA" hockey team based in Sylvan Lake, Alberta, Canada. The Admirals were part of the Chinook Hockey League which include teams throughout the province of Alberta.
Formerly the West Central Alberta Rams, based in Rocky Mountain House. The team was permanently relocated to Sylvan Lake during the 2009-2010 season, where the team finished playing out the season as a "AA" team under the name "West Central Alberta Rams". The team won the provincial championship in 2009-2010, as the West Central Alberta Rams.
The team's management then re-branded during the off-season, choosing the name Sylvan Lake Admirals. The Admirals name was selected based on its nautical reference as well as the fact that an Admiral is the highest naval military rank. As well, the management of the team declared the teams intent to compete as a men's senior "AAA" hockey team. This move will enable the Admirals to attempt to capture the Allan Cup, Canada's most coveted amateur hockey trophy.
The Admirals took a leave of absence from the Chinook Hockey League for the 2013-14 season, as well as the 2014-15 season and have not returned as of the end of the 2015-16 season
Season-by-season record
Edit
Note: GP = Games played, W = Wins, L = Losses, T = Ties, OTL = Overtime losses, Pts = Points, GF = Goals for, GA = Goals against
| | | | | | | | | | |
| --- | --- | --- | --- | --- | --- | --- | --- | --- | --- |
| Season | GP | W | L | T | OTL | GF | GA | P | Results |
| 2009–10 | 20 | 3 | 17 | - | 0 | 61 | 123 | 7 | 6th ChHL |
| 2010–11 | 20 | 10 | 10 | - | 0 | 117 | 42 | 22 | 3rd ChHL |
| 2011–12 | 24 | 14 | 10 | - | 0 | 94 | 88 | 28 | 3rd ChHL |
| 2012–13 | 16 | 4 | 12 | - | 0 | 53 | 87 | 8 | 5th ChHL |
Sylvan Lake Admirals Official Website
Sylvan Lake Admirals Official Facebook Page