The British Consols were a Jr. team based out of Glace Bay, NS. The team was sponsored by the cigarette company British Consols, after brothers Don and Del MacDonald saw a sky banner in Montreal and decided to address a personal letter to the owner (W.C MacDonald) asking for sponsorship. Eventually they got a response saying that W.C MacDonald had died 25 years prior, but regardless the company would sponsor the team.
They played in 1933-34 and 1934-35.
1933-1934 Roster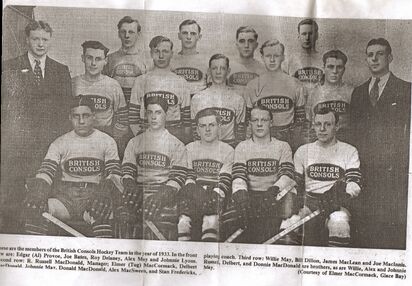 Edgar (Al) Provoe
Joe Bates
Roy Delaney
Alex May
Johnnie Lyons
Elmer (Tug) MacCormack
Delbert MacDonald
Johnnie May
Donald MacDonald
Alex MacSween
Willie May
Bill Dillon
James MacLean
Joe MacInnis
(Manager) R. Russell MacDonald
(Coach) Stan Fredericks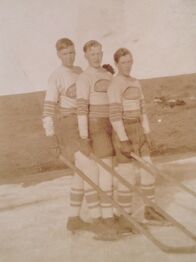 Ad blocker interference detected!
Wikia is a free-to-use site that makes money from advertising. We have a modified experience for viewers using ad blockers

Wikia is not accessible if you've made further modifications. Remove the custom ad blocker rule(s) and the page will load as expected.