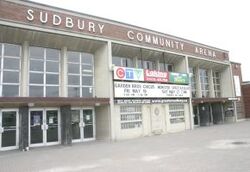 Sudbury (known as Greater Sudbury since 2001) is a city of Ontario, Canada. It has a population of 157,857.
Hockey in Sudbury
Edit
Sudbury co-hosted the 1978 Memorial Cup with Sault Ste-Marie, Ontario
(NOJHL, 1978-1982) renamed North Stars
(NOJHL, 1983-1992) become Nickel Centre Cubs
(NOJHL, 2012-2012) renamed Nickel Barons
(Ontario Hockey Association Jr. A (1972-1974) league renamed OMJHL
(Ontario Major Junior Hockey League, 1974-1980) league renamed OHL
(OHL, 1980-Present)
(NOHA Sr. A, 1951-1957) join OHA Sr. A
(OHASr A, 1957-1959) join EPHL
(EPHL, 1959-1963) become Indianapolis Capitals in CPHL
University team
Edit
College team
Edit
ChampionsEdit
World ChampionshipsEdit
Sudbury Community Arena (1951-Present)
Carmichael Arena
Gerry McCrory Countryside Sports Complex
Cambrian Arena
Centennial Arena (Hanmer)
Ad blocker interference detected!
Wikia is a free-to-use site that makes money from advertising. We have a modified experience for viewers using ad blockers

Wikia is not accessible if you've made further modifications. Remove the custom ad blocker rule(s) and the page will load as expected.