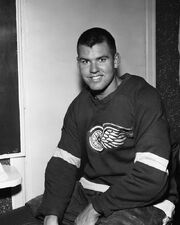 Stu McNeill (born September 25, 1938 in Port Arthur, Ontario) was a professional ice hockey centre who played ten games in the National Hockey League. He played with the Detroit Red Wings.
He played junior hockey for the Port Arthur North Stars from 1954 to 1957 and was loaned for the playoffs twice - once to the Regina Pats and once to the Fort William Canadians. In 1957 he shifted to the junior Hamilton Red Wings for two seasons, also playing 5 games for the Detroit Red Wings during that time.
McNeill's last season was 1959-60 when he played for the Edmonton Flyers and played another 5 games for Detroit.
In 10 NHL games, McNeill scored a goal and an assist.
References
Edit
Ad blocker interference detected!
Wikia is a free-to-use site that makes money from advertising. We have a modified experience for viewers using ad blockers

Wikia is not accessible if you've made further modifications. Remove the custom ad blocker rule(s) and the page will load as expected.