Ad blocker interference detected!
Wikia is a free-to-use site that makes money from advertising. We have a modified experience for viewers using ad blockers

Wikia is not accessible if you've made further modifications. Remove the custom ad blocker rule(s) and the page will load as expected.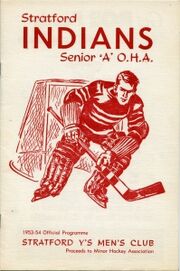 The Stratford Indians were a senior and junior team in Stratford, Ontario.
They won the Ontario Hockey Association's senior series in the first season that they played in 1906-07.
After that they did not repeat until 1951-52. That year they made it to the Allan Cup Final which they lost.
There was one junior team of the name. They played in the 1957-58 Western Ontario Junior B League where they finished fourth and lost the group quarter final.
Season-by-Season Results
Edit
Season
Games
Won
Lost
Tied
Points
Goals
for
Goals
against
Standing
Playoffs
1906-07
6
4
2
0
8
-
-
1st Group 2
Won Final
1923-24
12
9
2
1
19
53
27
1st Group 2
Lost Final
1924-25
20
12
8
0
24
-
-
2nd/Group 2
Lost Group Final
1925-26
20
6
13
1
13
54
66
5th/Group 2
Out of Playoffs
Season
Games
Won
Lost
Tied
Points
Goals
for
Goals
against
Standing
Playoffs
1929-30
12
5
7
0
10
34
32
4th/Group 2
Lost Group Quarter Final
1933-34
16
12
4
0
40
-
-
1st Group 2
Lost Final
Season
Games
Won
Lost
Tied
Points
Goals
for
Goals
against
Standing
Playoffs
1945-46
16
5
11
0
10
57
81
4th
Lost Semi Final
1946-47
24
5
19
0
10
69
112
5th
out of playoffs
1947-48
36
20
13
3
43
173
131
2nd
Lost Semi Final
1948-49
38
4
32
2
10
74
201
6th
out of playoffs
Season
Games
Won
Lost
Tied
Points
Goals
for
Goals
against
Standing
Playoffs
1951-52
50
33
16
1
67
264
175
1st
Won Final, Won East. Lost Allan Cup
1952-53
48
31
15
2
64
295
196
2nd
Lost Semi Final
1953-54
56
27
27
2
56
-
-
5th
Lost Final
1954-55
50
24
22
4
52
220
196
4th
Lost Semi Final
1955-56
48
24
21
3
51
205
190
2nd
Lost Semi Final
1956-57
51
26
20
5
57
219
211
4th
Lost Semi Final
Season
Games
Won
Lost
Tied
Points
Goals
for
Goals
against
Standing
Playoffs
1959-60
32
14
15
3
31
-
-
2nd West
Lost Semi Final
Season
Games
Won
Lost
Tied
Points
Goals
for
Goals
against
Standing
Playoffs
1960-61
40
18
21
1
37
149
172
3rd West
Lost Semi Final
1961-62
34
11
21
2
24
140
185
7th
Lost Semi Final