The Stonehill Skyhawks represent Stonehill College of North Easton, Massachusetts.
It is a NCAA Division III team.
They used to be called the Stonehill Chieftains until the politically incorrect name was changed for the 2005-06 season.  The school had already stopped using a Native American character and headdress in 1993.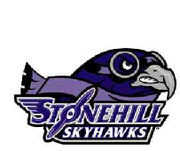 Ad blocker interference detected!
Wikia is a free-to-use site that makes money from advertising. We have a modified experience for viewers using ad blockers

Wikia is not accessible if you've made further modifications. Remove the custom ad blocker rule(s) and the page will load as expected.