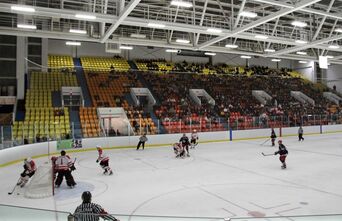 The Steve Yzerman Arena is a hockey arena. It is located in the Nepean Sportsplex, a multi-sport facility in Ottawa, Ontario. It is located on Woodroffe Avenue north of the Ottawa Greenbelt, near the former Confederation High School. .
Nepean Sportsplex was built in 1972 as a central facility for the former city of Nepean. The site contains baseball, soccer and football fields, convention space, swimming pools, lawn bowling, and a 3000-seat arena. In addition to nearby neighbourhoods, the Sportsplex served the community of Barrhaven until the Walter Baker Sports Centre was constructed. In 1997, the 3000 seat arena was named Steve Yzerman Arena in recognition of Steve Yzerman of the Detroit Red Wings, who played with the Nepean Raiders hockey team in his youth.
External links
Edit
Ad blocker interference detected!
Wikia is a free-to-use site that makes money from advertising. We have a modified experience for viewers using ad blockers

Wikia is not accessible if you've made further modifications. Remove the custom ad blocker rule(s) and the page will load as expected.