Ad blocker interference detected!
Wikia is a free-to-use site that makes money from advertising. We have a modified experience for viewers using ad blockers

Wikia is not accessible if you've made further modifications. Remove the custom ad blocker rule(s) and the page will load as expected.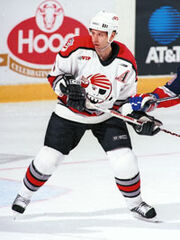 Steve Ray Poapst (born January 3, 1969 in Cornwall, Ontario) is a retired professional ice hockey defenceman who completed his playing career with the St. Louis Blues of the NHL after four seasons with the Chicago Blackhawks and one with the Pittsburgh Penguins. He is now coach and General manager of the Chicago Steel of the United States Hockey League.
He played for Colgate University from 1987 to 1991. Undrafted by an NHL team, he turned pro with the Hampton Roads Admirals in 1991-92. After several years in the minor pro, Poapst was signed by the Washington Capitals.
Poapst spent most of his time with the Portland Pirates, playing only 25 games for the Capitals over two seasons. In 2000 he signed as a free agent with the Chicago Blackhawks. He finally made it as a regular with the Hawks in 2001-02.
He played for the Hawks until 2005 when he was traded to the Pittsburgh Penguins and then to the St. Louis Blues during the 2005-06 season. He retired in 2006.
In 2007 he was named coach and General manager of the Chicago Steel.
In August, 2010, he became an assistant coach of the Rockford IceHogs of the American Hockey League.
Career statistics
Edit
Ice hockey
Edit
 
 
Regular Season
 
Playoffs
Season
Team
League
GP
G
A
Pts
PIM
GP
G
A
Pts
PIM
1987–88
Colgate University
ECAC
32
3
13
16
22
1988–89
Colgate University
ECAC
30
0
5
5
38
1989–90
Colgate University
ECAC
38
4
15
19
54
1990–91
Colgate University
ECAC
32
6
15
21
43
1991–92
Hampton Roads Admirals
ECHL
55
8
20
28
29
14
1
4
5
12
1992–93
Hampton-Roads Admirals
ECHL
63
10
35
45
57
4
0
1
1
4
1992–93
Baltimore Skipjacks
AHL
7
0
1
1
4
7
0
3
3
6
1993–94
Portland Pirates
AHL
78
14
21
35
47
12
0
3
3
8
1994–95
Portland Pirates
AHL
71
8
22
30
60
7
0
1
1
16
1995–96
Portland Pirates
AHL
70
10
24
34
79
20
2
6
8
16
1995–96
Washington Capitals
NHL
3
1
0
1
0
6
0
0
0
0
1996–97
Portland Pirates
AHL
47
1
20
21
34
5
0
1
1
6
1997–98
Portland Pirates
AHL
76
8
29
37
46
10
2
3
5
8
1998–99
Portland Pirates
AHL
54
3
21
24
36
--
--
--
--
--
1998–99
Washington Capitals
NHL
22
0
0
0
8
--
--
--
--
--
1999–00
Portland Pirates
AHL
58
0
14
14
20
3
1
0
1
2
2000–01
Norfolk Admirals
AHL
37
1
8
9
14
--
--
--
--
--
2000–01
Chicago Blackhawks
NHL
36
2
3
5
12
--
--
--
--
--
2001–02
Chicago Blackhawks
NHL
56
1
7
8
30
5
0
0
0
0
2002–03
Chicago Blackhawks
NHL
75
2
11
13
50
--
--
--
--
--
2003–04
Chicago Blackhawks
NHL
53
2
2
4
26
--
--
--
--
--
2005–06
Pittsburgh Penguins
NHL
21
0
4
4
10
--
--
--
--
--
2005–06
St. Louis Blues
NHL
41
0
1
1
37
--
--
--
--
--
NHL Totals
307
8
28
36
173
11
0
0
0
0