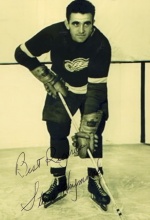 Steve Hrymnak (born March 3, 1926 in Port Arthur, Ontario) is a retired Canadian professional ice hockey player who played 18 games in the National Hockey League for the Chicago Blackhawks and Detroit Red Wings.
He played junior for the Port Arthur Flyers from 1942 to 1946, then turned pro with the New York Rovers in 1946-47. After two more years in the minor pros, he was traded by the New York Rangers to the Chicago Black Hawks in 1950.
Hrymnak played 18 games for Chicago in 1951-52, scoring 2 goals and an assist. He played two playoff games for the Detroit Red Wings in 1952-53. That was the extent of his NHL experience.
He played in the minor pros through the 1957-58 season. After sitting out one season, he played for the senior Port Arthur Bearcats until 1965.
External links
Edit
Ad blocker interference detected!
Wikia is a free-to-use site that makes money from advertising. We have a modified experience for viewers using ad blockers

Wikia is not accessible if you've made further modifications. Remove the custom ad blocker rule(s) and the page will load as expected.