Ad blocker interference detected!
Wikia is a free-to-use site that makes money from advertising. We have a modified experience for viewers using ad blockers

Wikia is not accessible if you've made further modifications. Remove the custom ad blocker rule(s) and the page will load as expected.
Stephen Valiquette (born August 20, 1977 in Etobicoke, Ontario) is a Canadian goaltender for currently playing for the HC CSKA Moscow of the Kontinental Hockey League. He was drafted in the 1996 NHL Entry Draft by the Los Angeles Kings in the eighth round, 190th overall.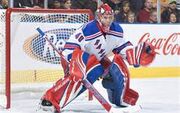 In 1998,, Valiquette signed as an unrestricted free agent with the Edmonton Oilers. Three months after this signing, he was claimed on waivers by the Florida Panthers in the NHL waiver draft on October 3, 2003. Six days later he was claimed back by the Edmonton Oilers. He appeared in one game with Edmonton and played 14 minutes. Valiquette spent the balance of the 2003–04 season with the Toronto Roadrunners of the American Hockey League, playing in 35 games.
On March 3, 2004, Valiquette was traded by the Oilers, along with forward Dwight Helminen and a second-round selection in the 2004 draft to the New York Rangers for center Petr Nedvěd and goaltender Jussi Markkanen. For the 2004–05 season, Valiquette was re-signed by the Rangers and sent to their American Hockey League affiliate, Hartford Wolf Pack. He then signed with Lokomotiv Yaroslavl in Russia on April 26, 2005.
In July 2006, the Rangers decided to re-sign Valiquette to be the back-up for Henrik Lundqvist following the departure of goalie Kevin Weekes to the New Jersey Devils. Since then, Valiquette had been the backup goaltender for the New York Rangers.,[1] until he was waived and sent back to Hartford on December 3, 2009.[2] On March 3, 2007, he won his first game in the NHL in almost three years.
When Valiquette made his playing debut in 2000, he was the tallest goaltender to ever play a game in the NHL at 6-foot-6.[3] Ben Bishop, standing 6-foot-7, has since surpassed Valiquette as the tallest NHL goaltender.[4]
On January 31, 2008, against the Philadelphia Flyers, Valiquette got his first shutout of his NHL career. Ten days later, on February 9, he would repeat this feat in a 2–0 win, also against the Flyers.[5] On February 6, 2009, he let 10 goals in a single game (a 10-2 loss to Dallas), a league worst for the season.
Valiquette appeared in his first career NHL playoff games with the Rangers during the first round of the 2009 Stanley Cup Playoffs against the Washington Capitals when he relieved starter Henrik Lundqvist for the third period of games five and six, playing 40 minutes and allowing no goals on nine shots.[6][7]
On July 15, Valiquette signed with the KHL side HC CSKA Moscow.[8]
Regular season
Edit
Statistics are through the 2009–10 season.
Season
Team
League
GP
W
L
T
OTL
MIN
GA
SO
GAA
SV%
1998–99
Lowell Lock Monsters
AHL
1
0
1
0
—
59
3
0
3.05
0.885
1999–2000
New York Islanders
NHL
6
2
0
0
—
193
6
0
1.87
0.949
1999–2000
Trenton Titans
ECHL
12
5
6
1
—
692
36
1
3.12
0.902
1999–2000
Providence Bruins
AHL
1
1
0
0
—
60
3
0
3.00
0.927
1999–2000
Lowell Lock Monsters
AHL
14
8
5
0
—
727
36
0
2.97
0.901
2000–01
Springfield Falcons
AHL
20
7
10
1
—
1066
54
0
3.04
0.907
2001–02
Bridgeport Sound Tigers
AHL
20
10
5
1
—
1071
45
2
2.52
0.923
2002–03
Bridgeport Sound Tigers
AHL
34
15
14
3
—
1962
86
2
2.63
0.912
2003–04
Edmonton Oilers
NHL
1
0
0
0
—
13
2
0
9.23
0.714
2003–04
Toronto Roadrunners
AHL
35
14
14
5
—
2064
89
2
2.59
0.913
2003–04
Hartford Wolf Pack
AHL
7
2
4
1
—
400
15
1
2.25
0.928
2003–04
New York Rangers
NHL
2
1
1
0
—
119
6
0
3.03
0.915
2004–05
New York Rangers
NHL
season not played due to Lockout
2005–06
Yaroslavl Lokomotiv
Russia
45
—
2734
89
4
1.95
0.923
2006–07
New York Rangers
NHL
3
1
2
—
0
115
6
0
3.14
0.867
2006–07
Hartford Wolf Pack
AHL
30
17
12
—
0
1694
66
6
2.34
0.909
2007–08
New York Rangers
NHL
13
5
3
—
3
686
25
2
2.19
0.916
2008–09
New York Rangers
NHL
15
5
5
—
2
823
39
1
2.84
0.907
2009–10
New York Rangers
NHL
6
2
3
—
1
305
19
1
3.74
0.852
2009–10
Hartford Wolf Pack
AHL
11
4
5
—
1
547
34
0
3.73
0.877
2010–11
CSKA Moscow
KHL
35
9
16
—
5
1897
93
2
2.94
0.897
NHL totals
46
14
14
3
2
2061
97
4
2.36
8.100
AHL totals
213
99
101
13
—
9319
487
16
2.65
0.824
ECHL totals
12
5
6
1
—
692
36
1
3.12
0.902
KHL totals
35
9
16
5
—
1897
93
2
2.94
0.897
Playoffs
Edit
Season
Team
League
GP
W
L
MIN
GA
SO
GAA
SV%
1998–99
Lowell Lock Monsters
AHL
-
-
-
-
-
-
-
-
1999–2000
Lowell Lock Monsters
AHL
-
-
-
-
-
-
-
-
2000–01
Springfield Falcons
AHL
-
-
-
-
-
-
-
-
2001–02
Bridgeport Sound Tigers
AHL
1
0
0
0
0
0
0
0
2002–03
Bridgeport Sound Tigers
AHL
4
2.13
.931
2003–04
Hartford Wolf Pack
AHL
1
1.65
.934
2004–05
Hartford Wolf Pack
AHL
2
2006–07
Hartford Wolf Pack
AHL
-
-
-
-
-
-
-
-
2007–08
New York Rangers
NHL
-
-
-
-
-
-
-
-
2008–09
New York Rangers
NHL
2
0
0
0
0
0
0
0
2009–10
Hartford Wolf Pack
AHL
-
-
-
-
-
-
-
-
2010–11
CSKA Moscow
KHL
-
-
-
-
-
-
-
-
NHL totals
2
0
0
0
0
0
0
0
AHL totals
8
0
0
0
0
0
0
0
KHL totals
-
-
-
-
-
-
-
—
References
Edit
External links
Edit