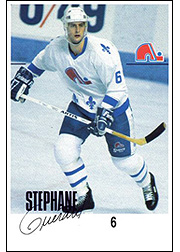 Stéphane Guérard (born April 12, 1968 in Sainte-Élisabeth, Quebec) is a retired Canadian professional ice hockey defenceman. He was chosen 41st overall by the Quebec Nordiques in the 1986 NHL Entry Draft.
He played 34 games in the National Hockey League for the Nordiques in 1987-88 and 1989-90.
Guerard won the Raymond Lagacé Trophy in 1985-86.