The Steele County Blades are a junior ice hockey team from Owatonna, Minnesota. The team is a member of the United States Premier Hockey League. The team is based out of Four Seasons Arena.
The team began play with the 2012-13 season in the Minnesota Junior Hockey League. In 2015 the team would end up in the newly formed USPHL Midwest Division along with the membership of the Midwest Junior Hockey League and the majority of the members of the Minnesota Junior Hockey League.
As part of the re-organization of the USPHL the team will play in the USPHL's Elite League for the 2016-17 season

On May 19, 2016; the organization was sold to the Iowa Wild AAA Hockey Club.  The team will remain in Owatonna and continue to be known as the Steele County Blades. As part of entering a new phase of Blades hockey the team announced they were changing colors to orange, black and white and also announced they would be using the old logo/colors as an alternate jersey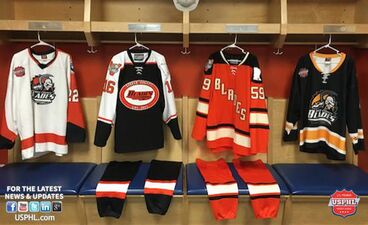 Season-by-season results
Edit
Ad blocker interference detected!
Wikia is a free-to-use site that makes money from advertising. We have a modified experience for viewers using ad blockers

Wikia is not accessible if you've made further modifications. Remove the custom ad blocker rule(s) and the page will load as expected.