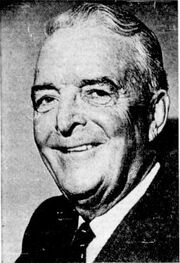 Fred G. "Steamer" Maxwell (May 19, 1890 in Winnipeg, Manitoba - September 11, 1975) was a Canadian amateur ice hockey defenseman who played for the Winnipeg Monarchs. He led the Monarchs to the 1915 Allan Cup. Maxwell coached the Winnipeg Falcons, winning a gold medal at the 1920 Summer Olympics.
He later coached a number of Winnipeg-area teams at both the junior and senior levels. In 1931-32 he coached the junior Monarchs to the 1931-32 Memorial Cup Final. In 1934-35 he coached the senior Monrachs to win the 1935 World Championship.
Steamer, though offered many opportunities to play professional hockey, was one of the best players of his day. He always turned down professional opportunities because he wanted to remain an amateur.
As a player or coach, Steamer won the Allan Cup, World Championship, and the Olympic Games. He almost won the Memorial Cup in 1932.
Awards and achievements
Edit
References
Edit
External links
Edit
Ad blocker interference detected!
Wikia is a free-to-use site that makes money from advertising. We have a modified experience for viewers using ad blockers

Wikia is not accessible if you've made further modifications. Remove the custom ad blocker rule(s) and the page will load as expected.