The Montreal Stars (French: Stars de Montréal) are a professional women's ice hockey team that plays in Montreal, Quebec. The team was awarded the Clarkson Cup in 2009 for winning the Canadian Women's Hockey Championship held in Kingston, Ontario [1]. The team has played in the Canadian Women's Hockey League since 2007 its inaugural season. The team plays its home games in Centre Etienne Desmarteau and Pierrefond Sportplexe 4 Glaces in Montreal[2]. The team is coached and managed by Patrick Rankine[3]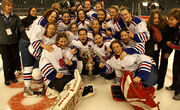 Team history
Edit
The Montreal Stars have played in the CWHL since its formation in 2007. The team was formed from players from the Montreal Axion a team that played in the National Women's Hockey League before its demise[4]. Through the team's young history they have seen success in every season that it has played. In their first season, 2007–08, Montreal won 23 games out of 30 regular season contests and finished first overall in the regular season[5], but lost to Mississauga Chiefs in the playoffs that year in a two game contest. In 2008-09 the Stars won the Clarkson Cup on March 19, 2009 in Kingston Ontario, the first year that the Clarkson Cup was openly played for between competitive professional women's hockey clubs rather than National teams such as before with Team Canada and Team Sweden in 2006. The Clarkson Cup was won by Montreal by defeating the Minnesota Whitecaps in the final. The game was competitive, with the score close. Initially the game was tied at one goal apiece until Montreal flared with offence scoring two goals. Sabrina Habrec ultimately scored the game winner, in a 3-1 final score. Former Canadian Governor General Adrienne Clarkson was on hand to present the trophy to team captain Lisa-Marie Breton-Lebreux[6]. It was Adrienne Clarkson's hope that The Clarkson Cup be the women's equivalent to the Stanley Cup [7]. That same season, three players were named to the First and Second team all stars; Caroline Ouellette, Kim St.Pierre and Sabrina Habrec [8]. In 2009–10, the team finished in first place but did not defend the Clarkson Cup in the playoffs.
The team has had much success with league awards to its players. Kim St. Pierre Has won the CHWL's award for top goaltender two season's running (2008, 2009), Caroline Ouellette was the CWHL MVP for the 2008-09, Marie-Phillip Poulin was the CWHL's rookie of the year in 2007-2008 at the age of 16 scoring over 40 points in 16 games, and finally Sabrina Harbec lead's the CWHL in scoring with 54 points in 29 games this season.[9].
Olympic Connection
Edit
The team includes notable forwards Caroline Ouellette, Marie-Philip Poulin and goaltender Kim St. Pierre[10], all members of the 2010 Canadian Women's Hockey Olympic team for competition this year in Vancouver [11][12] In addition, Julie Chu played for the Stars during the 2010-11 season.
Season standings
Edit
The Montreal Stars have a total of 2 regular season championships and one Clarkson cup in 3 Seasons of play. Their third season is in progress.
| | | | | | | | | | |
| --- | --- | --- | --- | --- | --- | --- | --- | --- | --- |
| Season | GP | W | L | OTL/SL | GF | GA | PTS | Finish | Playoffs |
| 2007–08 | 30 | 23 | 6 | 1 | 112 | 55 | 48 | 1st Overall | Lost in playoffs |
| 2008–09 | 30 | 25 | 4 | 1 | 135 | 65 | 51 | 1st Overall | Won Clarkson Cup |
| 2010–11 | 30 | 23 | 5 | 2 | 122 | 70 | 48 | 1st Overall | Lost in playoffs |
Awards and honors
Edit
References
Edit