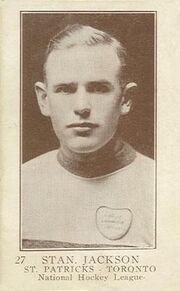 Stanton James Jackson (August 27, 1898, in Parrsboro, Nova Scotia – November 28, 1955) was a Canadian professional ice hockey left winger who played 5 seasons in the National Hockey League for the Toronto St. Pats, Boston Bruins and Ottawa Senators.
He played senior hockey with the Amherst Ramblers from 1919-23. The Toronto St. Pats called him up for one game in the 1921-22 season.
Jackson was a regular for the St. Pats in 1923-24. Released midway in the 1924-25 season, he was signed as a free agent by the Boston Bruins. He stuck with them for two seasons.
In 1926-27 he played 8 games for the Ottawa Senators, his last in the NHL. He played in a total of 86 games, scoring 9 goals and 6 assists.
Jackson went on to play five more seasons in the minor pros before retiring in 1932.
He coached the Charlottetown Abbies of the Maritime Senior Hockey League in 1933-34.
Ad blocker interference detected!
Wikia is a free-to-use site that makes money from advertising. We have a modified experience for viewers using ad blockers

Wikia is not accessible if you've made further modifications. Remove the custom ad blocker rule(s) and the page will load as expected.