Ad blocker interference detected!
Wikia is a free-to-use site that makes money from advertising. We have a modified experience for viewers using ad blockers

Wikia is not accessible if you've made further modifications. Remove the custom ad blocker rule(s) and the page will load as expected.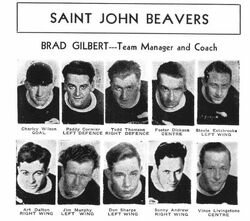 The Saint John Beavers were a senior and a major team.
They won the Maritimes Senior Championship in 1938-39, 1945-46, and 1952-53.
The Beavers also made it to the 1951-52 Alexander Cup Final which they lost to the Quebec Aces.
Season-by-Season Results
Edit
Season
Games
Won
Lost
Tied
Points
Goals
for
Goals
against
Standing
Playoffs
1933-34
41
8
28
5
21
76
121
4th
Lost Semi Final
1934-35
20
6
11
3
15
39
56
4th
Withdrew December
1938-39 SeasonEdit
This season the Beavers played as an independent (non-league) team before entering the 1938-39 Maritimes Senior Playoffs.
This is an incomplete (?) list of exhibition games played:
Season
Games
Won
Lost
Tied
Points
Goals
for
Goals
against
Standing
Playoffs
1946-47
41
20
17
4
44
-
-
2nd
Lost Semi Final
1947-48
48
20
23
5
45
209
200
3rd
Lost Final
1948-49
52
25
21
6
56
232
203
1st
Lost Semi Final
1949-50
72
44
18
10
98
348
238
2nd
Lost Final
Season
Games
Won
Lost
Tied
Points
Goals
for
Goals
against
Standing
Playoffs
1950-51
78
36
39
3
75
293
310
3rd
Lost Semi Final
1951-52
90
53
24
13
119
-
-
1st
Won Final, Lost Alexander Cup
Beavers who played in the NHLEdit