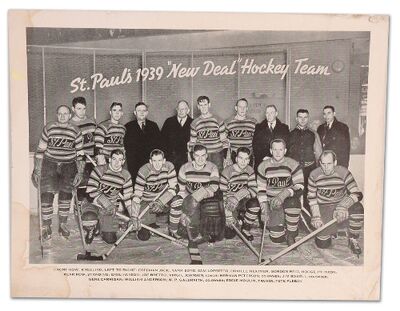 This is about the team that played from 1926-55. For the team of the same name that played in the International Hockey League (1945–2001), please see St. Paul Saints (IHL).
The St. Paul Saints were a hockey team in St. Paul, Minnesota.
They first appeared as the St. Paul Athletic Club that played in the United States Amateur Hockey Association (USAHA) from 1921-25. They moved to the Central Amateur Hockey League in 1925 when the USAHA folded.
In 1926 they moved over to the American Hockey Association (AHA) when the Central League dissolved. They played there until 1931 when they switched to the Central League which was composed of teams close to St. Paul. The Saints moved back to the AHA in 1935, playing in that league until it folded in 1942 because of World War II.
In 1945 they joined the newly-formed USHL which was founded as a successor to the old AHA. Again the Saints played until the league folded, this time in 1951.
They then joined a series of local leagues until 1957. That year the WHL put "half a team" in St. Paul - the Saskatoon/St. Paul Regals. That team only lasted one season. A new Saints franchise started in 1959 in the International Hockey League (1945–2001).
The Saints won the USHL title in 1948-49.
Ad blocker interference detected!
Wikia is a free-to-use site that makes money from advertising. We have a modified experience for viewers using ad blockers

Wikia is not accessible if you've made further modifications. Remove the custom ad blocker rule(s) and the page will load as expected.