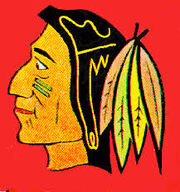 The
St. Louis
Braves were a minor professional team and a farm team of the
Chicago Blackhawks
of the
National Hockey League
.
They started out as a Eastern Professional Hockey League team when they were transferred from the Syracuse Braves in 1962-63. The Braves continued in the Central Hockey League (1963-1984) after the Eastern Professional Hockey League folded.
When the St. Louis Blues of the National Hockey League started play in 1967, the Braves were moved to Dallas to become the Dallas Black Hawks.
Braves who played in the NHLEdit
Ad blocker interference detected!
Wikia is a free-to-use site that makes money from advertising. We have a modified experience for viewers using ad blockers

Wikia is not accessible if you've made further modifications. Remove the custom ad blocker rule(s) and the page will load as expected.