Ad blocker interference detected!
Wikia is a free-to-use site that makes money from advertising. We have a modified experience for viewers using ad blockers

Wikia is not accessible if you've made further modifications. Remove the custom ad blocker rule(s) and the page will load as expected.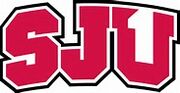 The
St. Johns Johnnies
are a
Men's Division III
team in
Minnesota Intercollegiate Athletic Conference
.  The school is a men's only college.
The program has
made appearances in the NCAA tournament (started in 1984) in 1996, 1997, 2001, 2003, 2005, and 2013.
won the MIAC playoffs (started in 1987) in 1996, 1997, 2001, 2003, and 2013
won the MIAC regular seasonchampionship (joined in 1932-33) in 1935, 1950, 1996, 1997, 2003, 2005, and 2013
The school's winningest coach is John Harrington who coached for 15 seasons from 1993 to 2008 compiling a 241-142-31 record.
The program dates back to 1932-33 season.  The program was discontinued from 1942-43 to being restarted in 1946-47 along with the rest of the conference due to World War II.