Ad blocker interference detected!
Wikia is a free-to-use site that makes money from advertising. We have a modified experience for viewers using ad blockers

Wikia is not accessible if you've made further modifications. Remove the custom ad blocker rule(s) and the page will load as expected.
The St. Francis Xavier X-Women represent St. Francis Xavier University, located in Antigonish, Nova Scotia, Canada, in the Atlantic University Sport conference.
During the 2010-11 season, the X-Women remained undefeated through the AUS regular schedule (24-0) and playoffs (3-0). The team won their first conference title since 2007-08. In addition, Suzanne Fenerty won a gold medal with Team Canada at the 2011 Winter Universiade in Turkey. On March 14, 2011, the X-Women played in the CIS championship game for the first team. The squad was bested by the McGill Martlets in a 5-2 defeat.[1]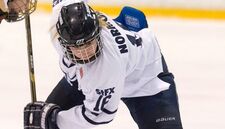 Year by year
Edit
| Year | W | L | T | PTS |
| --- | --- | --- | --- | --- |
| 2010-11 | 30 | 2 | 0 | 60 |
Postseason
Edit
AUS Titles: 2008, 2006, 2005, 2002, 2001, 2000, 1999
CIS Titles: Zero
CIS Championship Best Result: Second place, 2011
CIS Championship Appearances: Nine
| Year | Finish | Record |
| --- | --- | --- |
| 2011 | second place | |
| 2009 | fifth place | 1-2 record |
| 2008 | sixth place | 0-3 record |
| 2006 | fourth place | lost to McGill 3-2 (SO) |
| 2005 | fifth place | defeated Concordia 2-1 |
| 2002 | sixth place | 0-3 record |
| 2001 | sixth place | 0-3 record |
| 2000 | sixth place | 0-3 record |
| 1999 | sixth place | 0-3 record |
International
Edit
Awards and honors
Edit
Suzanne Fenerty, 2011 St. FX Female Athlete of the Year[3]
Suzanne Fenerty, St. FX Female Athlete of the Week (Week of March 14, 2011)[4]
CIS honors
Edit
Erin Brophy, 2011 Harrow Player of the Game (awarded to player of the game in the CIS championship)
Caroline Campbell, 2011 CIS women's ice hockey tournament All-Star selection
Suzanne Fenerty, 2011 All-CIS First Team[5]
Suzanne Fenerty, 2011 CIS women's ice hockey tournament All-Star selection
Abygail Laking, 2010 CIS All-Rookie Team[6]
Alex Normore, 2010-11 CIS Rookie of the Year[7]
Alex Normore, 2011 All-CIS Second Team
Alex Normore, 2011 CIS All-Rookie Team
Jenna Pitts, 2011 CIS All-Rookie Team
AUS awards
Edit
Alex Normore, 2011 Atlantic University Sport Rookie of the Year
Abygail Laking, 2010 Atlantic University Sport Rookie of the Year
Rebecca Davies, 2004 Atlantic University Sport Rookie of the Year
Suzanne Fenerty, 2011 AUS first all-star team
Janelle Parent, 2011 AUS first all-star team
Alex Normore, 2011 AUS first all-star team
Marilynn Hay, 2011 AUS second all-star team
Kristy Garrow, 2011 AUS all-rookie team
Alex Normore, 2011 AUS all-rookie team
Jenna Pitts, 2011 AUS all-rookie team
2012 Atlantic University Sport Most valuable player: Alex Normore, St. Francis Xavier[8]
2012 Atlantic University Sport First Team All-Star:Defence: Suzanne Fenerty, StFX
2012 Atlantic University Sport First Team All-Star:Forward: Alex Normore, StFX
2012 Atlantic University Sport First Team All-Star:Forward: Janelle Parent, StFX
2012 Atlantic University Sport Second Team All-Star:Defence: Jenna Pitts, StFX
Postseason awards
Edit
Molly MacDonald Subway Player of the Game for the X-Women (March 3, 2012)[9]
2012 AUS All-Tournament Team, Molly MacDonald
References
Edit