Ad blocker interference detected!
Wikia is a free-to-use site that makes money from advertising. We have a modified experience for viewers using ad blockers

Wikia is not accessible if you've made further modifications. Remove the custom ad blocker rule(s) and the page will load as expected.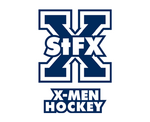 "X-Men" is the name of the male sports teams of St. Francis Xavier University located in Antigonish, Nova Scotia. They are members of the Atlantic University Sport (AUS) and Canadian Interuniversity Sport (CIS). St. F-X was an original member of the Maritime Intercollegiate Athletic Association (MIAA) hockey league in 1919-20. It changed names in 1968-69 to the Atlantic Intercollegiate Athletic Association (AIAA), in 1973-74 to the Atlantic Universities Athletic Association (AUAA), and finally in 1998-99 to the present AUS.
External links:
Senior Seasons
Edit
University Seasons
Edit
|1967 Canada Winter Games Hockey Tournament - 2-1-2 and 3rd in their pool of 6 teams
University Cup Tournaments
Edit
Championships
Edit
SENIOR
APCSHL – 1928, 1951
Maritimes – 1951, 1952
UNIVERSITY
MIAA - 1920, 1924, 1926, 1927, 1928, 1929, 1936, 1937, 1941, 1943, 1944, 1945, 1946
AIAA - 1950, 1951, 1952, 1954, 1955, 1956, 1957, 1958, 1959, 1963, 1966, 1967, 1968
AUAA - 1976, 1978
AUS - 2004
University Cup - 2004
X-Men who played in the NHLEdit
AUS Team Sites
Edit
Current Teams
Edit
Formerly Participating Universities
Edit
Formerly Participating Universities - no longer AUS members
Edit
Senior links:
National links:
Atlantic links: