Ad blocker interference detected!
Wikia is a free-to-use site that makes money from advertising. We have a modified experience for viewers using ad blockers

Wikia is not accessible if you've made further modifications. Remove the custom ad blocker rule(s) and the page will load as expected.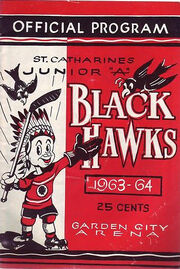 The St. Catharines Black Hawks were a junior A team in St. Catharines, Ontario.
They played in the Ontario Hockey Association from 1962-76. Prior to 1962 the team was known as the St Catharines TeePees. In 1976 the team was moved to Niagara Falls and became the Niagara Falls Flyers.
The Black Hawks were a Chicago Blackhawks' farm team from 1962-67, when NHL sponsorships of junior teams was ended.
The team won the league championship in 1971 & 1974.
Season-by-Season Results
Edit
Season
Games
Won
Lost
Tied
Points
Goals
for
Goals
against
Standing
Playoffs
1962-63
50
15
24
11
41
172
224
5th
out of playoffs
1963-64
56
29
20
7
65
244
215
3rd
Lost Semi Final
1964-65
56
19
28
9
41
236
253
7th
Lost Quarter Final
1965-66
48
15
26
7
37
182
231
8th
Loat Quarter Final
1966-67
48
19
20
9
47
175
155
5th
Loat Quarter Final
1967-68
54
21
30
3
45
200
211
6th
Lost Quarter Final
1968-69
54
31
11
12
74
296
206
2nd
Lost Final
1969-70
54
30
18
6
66
268
210
3rd
Lost Semi Final
1970-71
62
40
17
5
85
343
236
2nd
Won Final, Lost East Final
1971-72
63
25
31
7
57
258
311
7th
Lost Quarter Final
1972-73
63
24
28
11
59
280
318
5th
Lost Quarter Final
1973-74
70
41
23
6
88
358
278
2nd
Won Final, Lost Memorial Cup Semi Final
1974-75
70
30
33
7
67
284
300
6th
Lost Quarter Final
1975-76
66
16
40
10
42
283
366
5th Emms
Lost First Round
NHL alumni
Edit