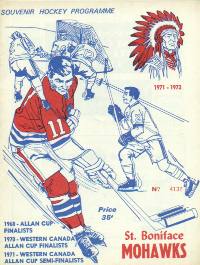 The St. Boniface Mohawks were a Canadian Senior ice hockey team from St. Boniface, Manitoba. In 67, the Winnipeg Maroons relocated to
St. Boniface, becoming the Mohawks.

---
The Mohawks were Manitoba's last true Senior team.
---
In 27 years, they represented Manitoba 14 times, winning 4 Patton Cups. Played in 3 Allan Cup finals, 1968, 1973, and 1983, and in the Allan Cup Tournaments in 1981, 1989, and 1994.


Championships
Edit
Manitoba Senior Championships (Pattison Cup)
1968, 1970, 1971, 1972, 1973, 1974, 1975, 1976, 1980, 1981, 1982, 1983, 1986, 1989
Western Canadian Senior Championships (Patton Cup) 1968, 1973, 1981, 1983

Manitoba Senior Hockey League Championships 1971
Canadian Central Hockey League Championships 1973

Season-by-Season Record
Edit
Note: click on season for team roster or on league for direct link to that season.
Ad blocker interference detected!
Wikia is a free-to-use site that makes money from advertising. We have a modified experience for viewers using ad blockers

Wikia is not accessible if you've made further modifications. Remove the custom ad blocker rule(s) and the page will load as expected.