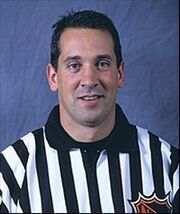 Stéphane Provost (born May 5, 1967 in Montreal, Quebec, Canada; died April 22, 2005 in Weston, Florida, United States) was a Canadian National Hockey League linesman.
Provost was killed in a road accident at approximately 3:30 a.m. while travelling on his motorcycle on State Road 84 after hitting a tractor trailer. He was 37 years old. The motorcycle burst into flames, falling onto Provost, who was not wearing a motorcycle helmet. Police reports indicate Provost was leaving a bar. The driver of the tractor trailer was uninjured.
Provost was hired by the NHL in September 1994 and officiated his first regular season game on January 25, 1995 between the Florida Panthers and Tampa Bay Lightning. His career included 695 regular season games.
External links
Edit
Ad blocker interference detected!
Wikia is a free-to-use site that makes money from advertising. We have a modified experience for viewers using ad blockers

Wikia is not accessible if you've made further modifications. Remove the custom ad blocker rule(s) and the page will load as expected.