The Springfield Jr. Blues are a are a Tier II Junior A ice hockey team in the North American Hockey League's South Division. The team plays their home games at the Nelson Center in Springfield, Illinois. The Jr. Blues are coached by Chris Wyler.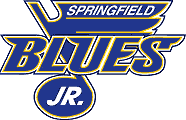 Founded by John D. O'Laughlin and Al Jennings, the franchise joined the North American Hockey League for the 1993-1994 season. Springfield had previously been home to a semi-pro team. .
The team has made numerous appearances in the NAHL playoffs and were back-to-back Robertson Cup National Championships in 1996 and 1997.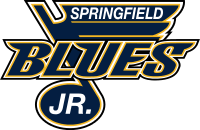 Season-by-season records
Edit
Season
GP
W
L
T
OL/
SL
PTS
GF
GA
PIM
Finish
Playoffs
1993-94
46
13
26
5
2
31
171
215
-
5th, Western
unknown
1994-95
44
32
8
2
2
68
275
148
-
2nd overall
unknown
1995-96
46
37
7
4
1
74
270
147
1817
1st overall
Won Championship
1996-97
46
35
10
-
1
71
230
144
-
1st overall
unknown
1997-98
56
42
12
-
2
86
274
175
2230
1st overall
unknown
1998-99
56
32
20
-
4
68
196
153
1552
4th overall
Lost Second Round
1999-00
56
28
24
-
4
60
190
183
1580
3rd West
unknown
2000-01
56
19
36
-
4
39
164
276
1342
4th West
unknown
2001-02
56
12
38
-
6
30
147
266
1608
5th West
Did not qualify
2002-03
56
34
20
-
2
70
220
180
1700
5th West
Lost First round
2003-04
56
34
18
-
4
72
194
143
1424
2nd North
unknown
2004–05
56
30
25
-
1
61
207
200
1509
5th, South Div.
Did not qualify
2005–06
58
28
26
-
4
60
181
208
1,721
3rd, South Div.
Lost first round
2006–07
62
26
31
-
5
57
188
203
1,588
6th, Central Div.
Did not qualify
2007–08
58
27
25
-
5
59
190
190
1,253
4th, Central Div.
Lost Second Round
2008–09
58
25
28
-
5
55
183
185
1,182
4th, South Div.
Lost first round
2009–10
56
21
29
-
8
50
163
193
921
4th, South Div.
Lost first round
2010–11
58
31
24
-
3
65
191
170
976
5th, North Div.
Did not qualify
2011–12
60
31
27
-
2
64
202
190
1216
3rd, Midwest Div.
Lost Division Finals
2012–13
60
26
30
-
4
56
159
181
907
6th, North Div.
Lost play-in round
2013–14
60
26
26
-
8
60
141
160
875
5th, North Div.
did not qualify
2014–15
60
23
31
-
6
52
126
184
815
6th, North Div.
did not qualify
2015–16
60
29
25
-
6
64
155
164
770
5th of 6, Midwest Div.
13th of 22, NAHL
did not qualify
Season
GP
W
L
OL
SL
PTS
GF
GA
PIM
Finish
Playoffs
2016–17
60
27
28
4
1
59
174
189
717
5th of 6, Midwest Div.
18th of 22, NAHL
did not qualify
2017-18
60
33
21
5
1
72
169
166
670
4th of 6, Midwest Div.
T-8th of 22, NAHL
Lost Div. Semifinals, 0-3 (Janesville Jets
Playoff records
Edit
| | | | | | | | | |
| --- | --- | --- | --- | --- | --- | --- | --- | --- |
| Season | GP | W | L | OTL | GF | GA | PIM | Finish |
| 2005 | | | | | | | | Did not Qualify |
| 2006 | 4 | 1 | 3 | 0 | 9 | 13 | 83 | Lost in 1st Round |
| 2007 | | | | | | | | Did not Qualify |
| 2008 | 8 | 5 | 3 | 0 | 31 | 18 | 119 | Lost in 2nd Round |
| 2009 | 4 | 1 | 3 | 0 | 5 | 9 | 93 | Lost in 1st Round |
| 2010 | 4 | 1 | 3 | 0 | 10 | 20 | 76 | Lost in 1st Round |
| 2011 | | | | | | | | Did not Qualify |
| 2012 | 9 | 4 | 5 | 0 | 18 | 26 | 155 | Lost in Division Finals |
| 2013 | 2 | 0 | 2 | - | 1 | 13 | 32 | Lost in Division Play In Round |
| 2014 | | | | | | | | Did not Qualify |
| 2015 | | | | | | | | Did not Qualify |
| 2016 | | | | | | | | Did not Qualify |
| 2017 | 3 | 0 | 3 | | | | | Lost in Divisin Semifinals |
External links
Edit