The Southern Sting are a Junior C team in Hampton, New Brunswick. They play in the New Brunswick Hockey League. The team is based out of the Hampton Arena in Hampton, New Brunswick.
THe Hurricanes played in the New Brunswick Junior C Hockey League until 2011 when that league collapsed and all the other teams folded. The team then moved to the New Brunswick Junior B Hockey League for the 2011-12 season. That league changed its name in 2012.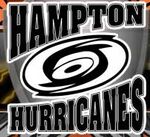 THe Hurricanes won their league titles in 2009, 2012, 2013, and 2014. In those years they advanced to the Maritime-Hockey North Junior C Championships. They won that title in 2013 and were the finalists in 2014.
On August 27, 2015 the team announced it was relocating to Quispamsis and changed their name to the Southern Sting
Ad blocker interference detected!
Wikia is a free-to-use site that makes money from advertising. We have a modified experience for viewers using ad blockers

Wikia is not accessible if you've made further modifications. Remove the custom ad blocker rule(s) and the page will load as expected.