Ad blocker interference detected!
Wikia is a free-to-use site that makes money from advertising. We have a modified experience for viewers using ad blockers

Wikia is not accessible if you've made further modifications. Remove the custom ad blocker rule(s) and the page will load as expected.
The South African National Team represents South Africa in international competitions. The team exists since February 25, 1937.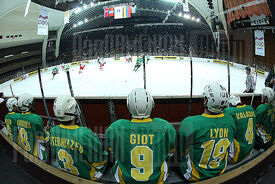 The South African National Team was created as the South African Ice Hockey Association gained its International Ice Hockey Federation membership on February 25 1937. Despite this early admission, it took almost 25 years before a South African squad took part in the World Championships. The team made its debuts at the 1961 World Championship on March 3rd 1961, as they were beaten 12-3 by the Yugoslav National Team. The South Africans finished 5th in the Group C, and 19th overall in the world. The team was absent from competition for five years before returning for the 1966 World Championship, where they once again finished 19th in the world, and this time, third in the Group C.
South Africa would then pull out from competition until 1992, where they returned with a senior squad. Since 1992, South Africa has sent a contesting team every year in at least one of the three annual Men's World Championships competitions, and failed only twice, 1996 and 1997, to take part in the senior World Championship.
South Africa has, so far, been able to earn promotion to a higher division of play on two distinct occasions. They first accessed Division II via promotion in 2006 after finishing second in the 2005 World Championship Division III. The journey in Division II lasted a single year, with the South Africans losing all five games and finishing sixth and last in the group stage. The second time the national team had a shot at Division II play was in 2009, following another second place finish at the 2008 World Championship Division III. There again, the adventure at the upper level only lasted one tournament before the team was back in Division III.
2010 World Championship roster
#
Position
Player
Team
Goaltender
All-time performances
Edit
World Championships
Edit
All-time standings of the South African National Team at the IIHF World Championships
Year
Senior WC
U20 WC
U18 WC
1961
19th (5th in Group C)
Did not participate
No championship
1966
19th (3rd in Group C)
Did not participate
No championship
1992
28th (2nd in Group C2)
Did not participate
No championship
1993
32nd (12th in Group C)
Did not participate
No championship
1994
35th (8th in Group C2)
Did not participate
No championship
1995
37th (8th in Group C2
Did not participate
No championship
1996
Did not participate
6th in Group D
No championship
1997
Did not participate
7th in Group D
No championship
1998
37th (5th in Group D)
7th in Group D
No championship
1999
36th (5th in Group D)
6th in Group D
Did not participate
2000
37th (4th in Group D)
6th in Group D
7th in Division II Europe
2001
36th (4th in Division II, Group A)
6th in Division III
4th in Division III
2002
37th (5th in Division II, Group A)
5th in Division III
5th in Division III
2003
38th (5th in Division II, Group A)
5th in Division II, Group A
6th in Division II, Group B
2004
39th (6th in Division II, Group B)
6th in Division II, Group B
2nd de Division III
2005
42nd (2nd in Division III)
4th in Division III
6th in Division II, Group A
2006
40th (6th in Division II, Group A)
Did not participate
3rd in Division III
2007
44th (4th in Division III)
Did not participate
5th in Division III
2008
42nd (2nd Division III)
Did not participate
4th in Division III, Group A
2009
40th (6th in Division II, Group B)
5th in Division III
4th in Division III, Group A
2010
46th (3rd Division III, Group B)
Did not participate
3rd in Division III, Group B
Other tournaments
Edit
Template:Ice hockey in South Africa