Ad blocker interference detected!
Wikia is a free-to-use site that makes money from advertising. We have a modified experience for viewers using ad blockers

Wikia is not accessible if you've made further modifications. Remove the custom ad blocker rule(s) and the page will load as expected.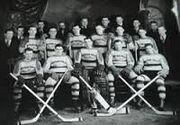 The Smiths Falls MicMacs were at first an intermediate team, then a senior team.
They won the Rideau Group title in 1934-35, 1935-36, and 1944-45 and the Upper Ottawa Valley League title in 1936-37 and 1939-40,
The MicMacs also won the Ottawa Citizen Shield (Senior B) in 1935-36, 1936-37, and 1939-40.
Intermediate Team
Edit
The MicMacs played in the Ontario Hockey Association's intermediate series in 1905-06 and 1907-08. They finished in second place in Group 2 in both seasons.
Senior Team
Edit
The MicMacs played in the Rideau Group in 1934-35 and 1935-36. They then shifted to the Upper Ottawa Valley League when the Rideau Group folded. They played until 1940-41 when they took a break for World War II.
Their last season was in 1944-45 when the Rideau Group started up again.
Season-by-Season Results
Edit
Season
Games
Won
Lost
Tied
Points
Goals
for
Goals
against
Standing
Playoffs
1934-35
-
-
-
-
-
-
-
2nd
Won Final, Lost Ottawa Semi Final
1935-36
12
9
2
1
19
58
31
1st
Won Final, Lost Ottawa Final
Season
Games
Won
Lost
Tied
Points
Goals
for
Goals
against
Standing
Playoffs
1936-37
12
8
3
1
17
63
30
1st
Won final, Lost Ottawa Final
1937-38
16
2
13
1
5
35
86
5th
Out of Playoffs
1938-39
16
6
9
1
13
57
80
4th
Out of Playoffs
1939-40
15
11
4
0
22
85
50
2nd
Won Final, Lost Ottawa Final
1940-41
18
9
6
3
21
100
102
2nd
Lost Final
Season
Games
Won
Lost
Tied
Points
Goals
for
Goals
against
Standing
Playoffs
1944-45
-
-
-
-
-
-
-
1st
Won Final, Lost Ottawa Semi Final