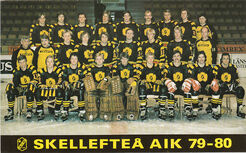 Skellefteå AIK Hockey (SAIK) is a professional ice hockey club based in Skellefteå, Sweden, that plays in the Elitserien.
The club was founded in 1921; however, the hockey section only began its activities in 1943, and was limited to training matches for the first season. The next season, the team joined the Skellefteserien. Unfortunately, the league didn't finish the season, as the weather that year turned out to be unsuitable for hockey (games being played outdoors). The hockey organisation separated itself from the club, givin birth to SAIK as we know it today.
The club was swedish champion in 1978.
Goaltenders
Edit
Defencemen
Edit
Memorable players
Edit
Ad blocker interference detected!
Wikia is a free-to-use site that makes money from advertising. We have a modified experience for viewers using ad blockers

Wikia is not accessible if you've made further modifications. Remove the custom ad blocker rule(s) and the page will load as expected.