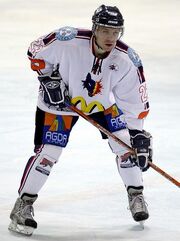 Simon Bachelet (b. May 7th 1977 in Gap, France) is a former defenceman who played in the Ligue Magnus.
Bachelet was given his chance among the seniors by Grenoble MH38 in 1995. He spent his whole career with the Brûleurs de Loups, except season 1999-00, where he wore the Lyon HC uniform.
Bachelet was member of the junior French National Team from 1994 to 1997. He also played 20 games for the senior team.
Ad blocker interference detected!
Wikia is a free-to-use site that makes money from advertising. We have a modified experience for viewers using ad blockers

Wikia is not accessible if you've made further modifications. Remove the custom ad blocker rule(s) and the page will load as expected.