Ad blocker interference detected!
Wikia is a free-to-use site that makes money from advertising. We have a modified experience for viewers using ad blockers

Wikia is not accessible if you've made further modifications. Remove the custom ad blocker rule(s) and the page will load as expected.
Shannon Miller, is the former head coach of the Canadian national women's hockey team which won the Silver medal in ice hockey at the 1998 Winter Olympics. She has also won four NCAA championships with the Minnesota–Duluth Bulldogs women's ice hockey.
Miller played in the first Canadian national championships in 1982.[1] Miller also refereed Canadian university hockey from 1982 to 1985. In 1985, she was a member of the Canadian Hockey Feminine Council and was president of the Southern Alberta Women's Hockey League. [2] She helped to form the first ever girls minor hockey association in Calgary in 1989. [3]
Coaching career
Edit
She was an assistant coach for Team Alberta at the 1991 Canada Winter Games.
Hockey Canada
Edit
In addition, she was an assistant coach for Team Canada at the 1992 and 1994 Women's World Ice Hockey championships.
Minnesota Duluth
Edit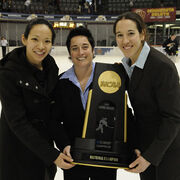 On April 20, 1998, Miller was hired as the first head coach for the Bulldogs Women's Hockey Team.[4] On March 22, 2010, the Mayor of Duluth, Don Ness presented Shannon Miller with a proclamation declaring Friday, March 26, 2010 as "Shannon Miller Day'".[5] She reached her 300th win faster than any other women's NCAA Division I head coach in history back on Nov. 20 against Ohio State. [6]
Coaching record
Edit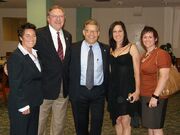 Minnesota Duluth
Edit
Note: GP = Games played, W = Wins, L = Losses, T = Ties
Records as of January 19, 2010
| | | | | |
| --- | --- | --- | --- | --- |
| Year | Wins | Losses | Ties | Postseason |
| 2009-10 | 31 | 8 | 2 | NCAA Champions |
| 2008-09 | 26 | 9 | 4 | NCAA Frozen Four |
| 2007-08 | 34 | 4 | 1 | NCAA Champions |
| 2006-07 | 24 | 11 | 4 | |
| 2005-06 | 22 | 9 | 3 | |
| 2004-05 | 26 | 6 | 2 | |
| 2003-04 | 20 | 12 | 2 | |
| 2002-03 | 31 | 3 | 2 | NCAA Champions |
| 2001-02 | 24 | 6 | 4 | NCAA Champions |
| 2000-01 | 28 | 5 | 4 | NCAA Champions |
| 1999-00 | 25 | 5 | 3 | |
Awards and honors
Edit
Petro Canada Coaching Excellence Award
2000 WCHA Coach of the Year[8]
In 2003, Miller was part of the Bulldogs coaching staff that was named American Association of College Coaches' women's hockey coaching staff of the year. [9]
2003 AHCA Coach of the Year[10]
References
Edit