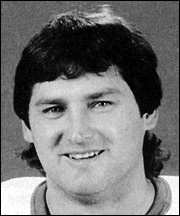 Sergei Aleksandrovich Mylnikov (born October 6, 1958 in Cheliabinsk, Russia) is a retired ice hockey player who played in the Soviet Hockey League and National Hockey League.
He played for Traktor Chelyabinsk, SKA Leningrad, and briefly for the Quebec Nordiques. He also played for the Soviet National Team, winning a gold medal at the 1988 Olympics and at the 1989 World Championship and 1990 World Championship. He was named to the Soviet All-Star team in 1988. Mylnikov was inducted into the Russian and Soviet Hockey Hall of Fame in 1985.
Mylnikov also helped the Soviet junior team to back-to-back World Junior Championships in 1977 and 1978. He was also the starting Soviet goaltender at the 1987 Canada Cup.
References
Edit
Ad blocker interference detected!
Wikia is a free-to-use site that makes money from advertising. We have a modified experience for viewers using ad blockers

Wikia is not accessible if you've made further modifications. Remove the custom ad blocker rule(s) and the page will load as expected.